Random transformator i Adobe Illustrator kao Grafički shell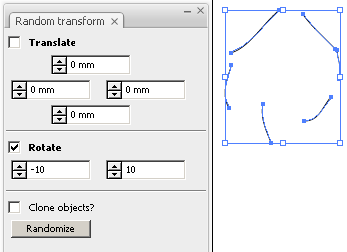 Još jedan Adobe plugin iz kuhinje Binarnog laboratorija. Ovaj plugin modificira svaki selektirani objekat na određeni način. Dođe uz Illustratora jedan sličan plugin (samo što on istu operaciju vrši nad svim objektima) ali moj je naravno neusporedivo bolji. Ovo je prva alpha verzija pa za sad postoje samo opcije random translatea i random rotacije unutar određenog rangea. Malo ću se poigravati sa ovim osnovnim operacijama pa ću kasnije kad steknem neki osjećaj kako se sve ovo ponaša implementirati neke super kewl ideje zbog kojih je ovaj plugin i napisan in the first place.
Anywho, moment u kojem mi se desio klik u glavi je bilo promatranje i razgovor sa iskusnim Illustrator maisterom o načinu kako on koristi ovu aplikaciju. To je bio moment u kojem sam si ja imao (malo sam ja spor) prosvjetljenje "…. pa to je tvoj shell…da…da..". Način kako se koristi radna površina (vidljivi i nevidljivi dio), layeri (vidljivi i nevidljivi), grafički objekti i operacije nad istima. Onaj trenutak kad napraviš vezu između layera i pipea ili između elemenata van radne površine i privremenih promjenjivih / argumenata Illustrator može djelovati kao zanimljiva platforma. Način kako se pluginu za porazbacavanje boja mogu postaviti ulazni parametri to najbolje pokazuje. Ali psssstttt o tome.