Japan 1: Tactile sidewalk strips for the blind
Amir is back from Japan, and sent in some interesting photos attesting to that country's outstanding and different ways of solving life's daily problems.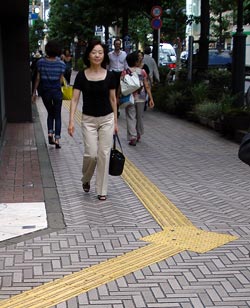 For starters, here is yellow path marked out on a Tokyo sidewalk, whose surface is textured with the little rubber bumps that are so annoying at some airport terminals. Turns out these strips are quite common in major cities in Japan.
This is not a way to mark the road to the Wizard of Oz; it has a very practical and worthwhile function: it allows blind or low-vision individuals to find their way safely. The bumps have different patterns where the trail changes direction – they are linear on the straight and round at intersections, allowing the users to sense through their feet where they should pay attention.
In addition, the strips continue in public buildings like railway stations, where they mark the way to the ticket office and other key locations. There are also plaques with Braille directions in strategic locations along the paths. The photo below is from the train station at Kurashiki.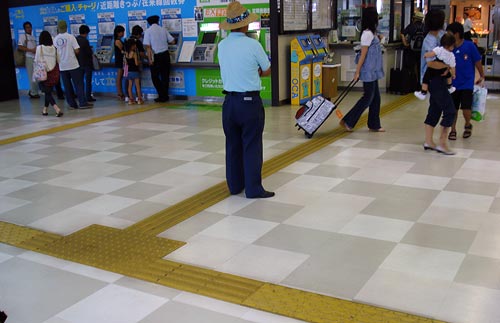 That is one simple, ingenious and commendable practice that other nations ought to emulate!